A heartfelt thanks to all of you that have contributed to the NMSU Theatre Arts program and The American Southwest Theatre Company. Your patronage allows us to provide the highest quality of education for our students and to bring quality shows to the public.
Our current students, our alumni and our faculty staff appreciate your long term interest in our program.
Of course every year we begin anew and giving is always in season, so if you'd like to continue supporting our program, or perhaps become a first time donor, we certainly welcome you to peruse our many donation paths to benefit the Department of Theatre Arts: Direct Donations, Sponsoring Shows and Program Ads, and Scholarships.
We invite you to join our
Center Stage Society! 
With a donation of $500 or more
 to the American Southwest Theatre Company, you will receive two (2) complimentary season tickets and receive an American Southwest Theatre Company proud supporter license plate along with an ASTC mask!
This donation goes to the American Southwest Theatre Company which supports our students via funding guest artists, travel scholarships, a senior scholarship, and enhancements to our season's productions. 
Below are our different levels of donations, please take a look and contact Melis White, 575-646-5122 or melisd23@nmsu.edu, to arrange your ASTC donation:
ASTC Giving Levels:
Center Stage Society Donation Levels:
While we are having to be flexible with our production season, please know that we will do our very best to provide you with theatrical experiences from our program. We hope you will consider both a season subscription and becoming a donor – our students, faculty, and staff appreciate your support. 
We look forward to hearing from you soon.
With Best Regards,
Wil Kilroy and the faculty, staff, and students of NMSU and ASTC
Donating Directly to the Department of Theatre Arts
You can also donate directly to the Department of Theatre Arts. Donations to the department help fund production costs including sets, costumes, lights, props, and makeup. These donations are payable to NMSU, and will be deposited with the NMSU Foundation. We accept donations by check, money order, and credit card.
To donate by credit card: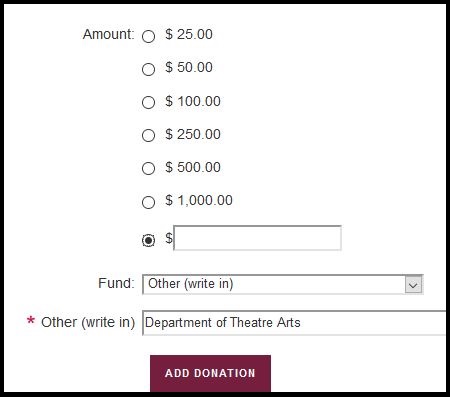 Select an amount to donate (or write in an amount).
In Fund, select Other (write in).
In the Other (write in) field, enter "Department of Theatre Arts."
Click Add Donation.
Follow the prompts to complete your donation.
Or, you can mail a donation to us at:
NMSU Theatre Arts
MSC 3072, P.O. Box 30001
Las Cruces, NM 88003-8001
Sponsoring Shows & Program Ads
We also have sponsors for certain shows, and always welcome ads in our program. Please contact the department office at 575-646-5122 or melisd23@nmsu.edu for info about these opportunities.
Scholarships
Student scholarships are an enduring way to support our program, our students, and a vibrant future for theatre arts! Below are our current scholarships, all of which are critical to helping engage and encourage students in our program. Some of these scholarships require continued funding, while others are endowed. Some scholarships also have a preference in regards to the student recipient.
Click any of the below links to be redirected to a donation page for the scholarship, which is hosted by the University Advancement, NMSU Foundation & Alumni Association (so you know your gift is safe and secure!):