NMSU Summer Theatre Camp 2023
REGISTRATION NOW OPEN!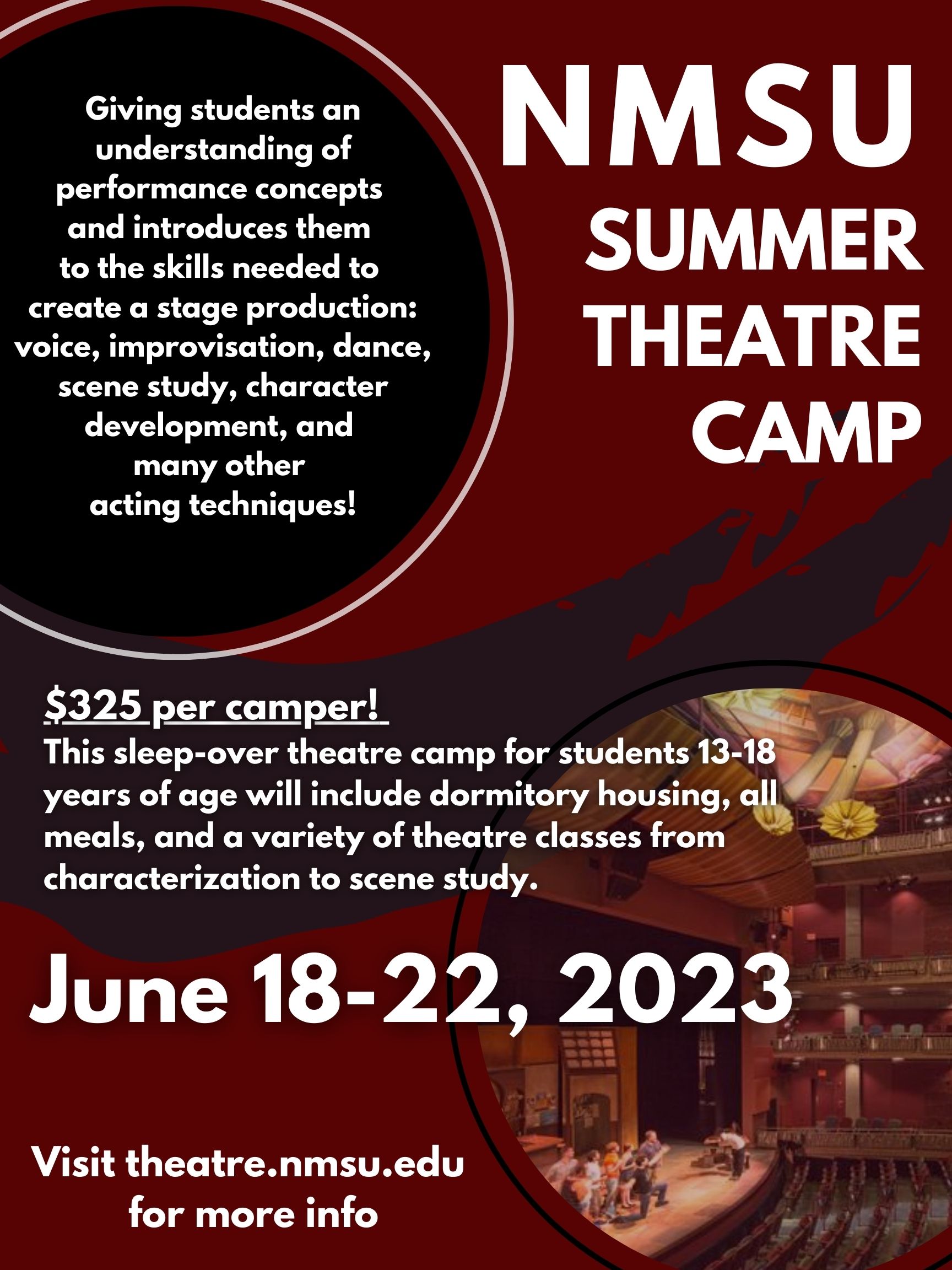 This sleep-over theatre camp for students 13-18 years of age, 7th-12th grades, will include dormitory housing, all meals, and a variety of theatre classes from characterization to scene study.  The week will begin with check-in at 4pm on Sunday, June 18th, at Garcia Hall on the NMSU Las Cruces campus and culminate in a public presentation of work from the week on Thursday June 22nd at 5:30pm, onstage at the ASNMSU Center for the Arts.  Artistic director Wil Kilroy is the Department Head of Theatre Arts at New Mexico State University and will be joined by advanced university students and alumni.  The NMSU Theatre Academy gives students a basic understanding of performance concepts and introduces them to the skills needed to create a stage production: voice, improvisation, dance, scene study, character development, and other acting techniques. Students engage in performance exercises that will not only enhance acting talent, but also assist in developing imagination, confidence, self-awareness, teamwork, collaboration and communication skills.
Cost of the camp: $325 per camper and includes tuition, room, and board
For any questions regarding the camp, please reach out to Wil Kilroy at 575-646-6000 or email wkilroy@nmsu.edu 
NMSU does not discriminate on the basis of age, ancestry, color, disability, gender identity, genetic information, national origin, race, religion, retaliation, serious medical condition, sex (including pregnancy), sexual orientation, spousal affiliation or protected veteran status in its programs and activities as required by equal opportunity/affirmative action regulations and laws and university policy and rules.